If you suffer from snoring, you are not alone. Estimates say that between 30-50% of the population suffer from snoring. It disrupts your sleep as well as your partner's. For some couples, it is so disruptive that they end up sleeping in separate beds. Here is what happens:



In a normal breathing passage your throat is open and unobstructed, as illustrated in the picture on the left.
---



In some people this passage is partially obstructed by the soft tissue at the base of the throat, resulting in snoring.
---
In more severe cases the airway is almost completely obstructed. This is called obstructive sleep apnea.
---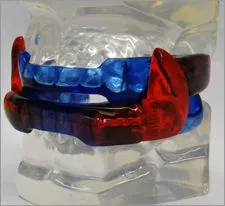 Using the Respire appliance, pictured above, Dr. Beasley can reposition your jaw in order to clear the breathing passageway, allowing a free flow of air. In many cases this completely eliminates snoring. It has also been successful in reducing sleep apnea, a condition where you stop breathing many times throughout the evening.
If you are diagnosed with sleep apnea and have health insurance, you may be able to get medical reimbursement for treatment.
---

Click here to read some frequently asked questions about sleep apnea.
If you're a snorer, or suspect you may have sleep apnea, you may request an appointment with our office.
Related Articles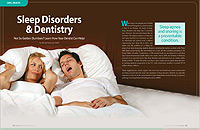 Sleep Disorders & Dentistry If my partner snores loudly, should I be concerned and what can be done to alleviate the problem? Why does my sleeping partner have lapses in breathing while sleeping and is it dangerous? Why do I wake up exhausted even though I get up to 10 hours of sleep at night? The answers to these and other questions — and how dentistry can help — are all revealed within... Read Article
---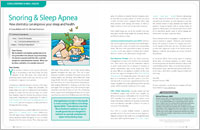 Snoring & Sleep Apnea Snoring is annoying to those who have to listen to it, but it can also signal a serious health condition called Obstructive Sleep Apnea (OSA). Individuals with OSA experience significant airflow disruption during sleep, which in turn can cause a variety of health problems. Learn what to look for and how your dentist can help... Read Article