Cosmetic Dentistry in Huntsville, AL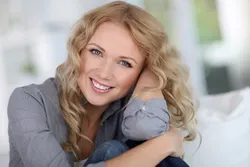 Our smiles are as unique as our fingerprints, so it's no surprise that they are often the first feature someone notices. After all, who can forget a white, healthy-looking smile? Of course, there are so many issues that can affect the overall appearance of your smile. Even though your smile may be healthy it may not look like it at first glance. Fortunately, cosmetic dentistry has grown so much over the decades, allowing us to offer everything from minor tweaks to full makeovers.
Through the latest techniques and technologies available, we can treat teeth that suffer from:
Discolorations and stains
Chips and cracks
Unevenness
Misshapen or worn teeth
Crowding
Crookedness
Cosmetic dentistry is designed to hide minor imperfections such as stains, chips, cracks, as well as change the overall color, shape and size of your smile. Those looking to fix crookedness or gaps between teeth may think that the only option is to wear braces. But with cosmetic dentistry, we can address these issues to give you a whiter, straighter smile.
Cosmetic dentistry also ranges from minor non-invasive procedures like dental bonding, which can make subtle changes to your smile without needing anesthesia to more elaborate surgeries like the ones required for placing a dental implant.
Before you can get a cosmetic dentistry procedure, we will need to make sure that your smile is healthy enough for treatment. When you come in for a consultation we will discuss your goals for treatment to make sure they align with what we offer. We will also examine your smile to check for cavities or gum disease that will need to be treated before any cosmetic procedures can be performed.
If you are interested in Cosmetic Dentistry services near Huntsville, AL, call our or text our office at (256) 233-1400 today to schedule an appointment and find out which treatment options are right for you!