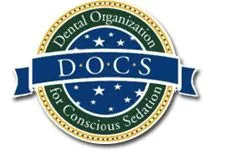 Dr. Beasley has been a member of the Dental Organization for Conscious Sedation ( DOCS ) for many years. He has successfully completed courses in Anxiolysis (light sedation), Adult Oral Sedation (moderate sedation), Complex Adult Oral Sedation, and Contemporary Sedation for Children (through The American Academy of Pediatric Dentistry).
Dr. Beasley received his Fellowship in DOCS in September 2007, in recognition of his expertise in dental conscious sedation. This fellowship is awarded to those elite practitioners who have distinguished themselves as leaders in the field of sedation dentistry, and is an honor bestowed for demonstrated dedication to the education and support of professional peers, personal commitment to the continuing education process, and superior patient care.
Dr. Beasley also is certified in Basic Cardiac Life Support ( BCLS ), Advanced Cardiac Life Support ( ACLS ), and is trained in providing emergency sedation reversal medicines.
As of December 2013, Dr. Beasley and his team have successfully completed over 700 oral sedation cases.
If you need sedation dentistry, you can be confident that you are in capable, experienced hands with Dr. Beasley.