Imagine this: An implant surgeon is performing a thorough examination of your mouth. The surgeon rotates your jaw from side to side and up and down, looking for the optimal sites in which to place dental implants — and the proper size, shape and orientation for the implants to have. He or she may test several alternatives, considering the underlying anatomical structures, and the bone density and quality that the examination reveals. Finally, a surgical plan is developed: This includes a set of precise specifications for implant position, size and depth, and a template for creating a perfectly fitting set of replacement teeth. But no invasive procedures of any type have been performed so far. In fact, you aren't even present.
Welcome to the world of computer-guided dental implant surgery. What we have described is one step in the process that allows you to receive a set of replacement teeth with the minimum amount of surgery (and time spent in the dental chair), and the maximum level of preplanning foresight. It can result in faster overall treatment time, less discomfort, and an outcome that pleases everyone. Let's look a little more closely at the entire process of computer-guided implant surgery — a procedure at the forefront of dental implant technology.
The First Phase: Making A Virtual Model
It all begins with a complete examination and modeling of your existing teeth, gum and jaw structures. In many cases, a physical impression (replica) of the jaws is made, which will aid in planning the location of the new teeth. But the modeling doesn't stop there: A high-tech, three-dimensional CT (computed tomography) scan is also performed. This allows us to examine the structures (including bone, nerve tissue and sinus cavities) which lieinside the jaw. It is often accomplished using "cone-beam" CT technology, in which the scanning device quickly captures a complete digital image of internal structures as it rotates around your head.
The next step of the process relies on powerful computers and sophisticated software to take the raw CT scan data and translate it into a 3-D model of the jaw. This virtual model can be manipulated on a computer screen — rotated, measured, even "operated" on — so that we can visualize the placement of dental implants and determine their optimum position with a high degree of accuracy. Using this technology, it's now possible for us to evaluate anatomical structures virtually — structures it once would have taken surgery to reveal — and to plan out the implant procedure accordingly.
The 3-D model we have developed is then used for two purposes: to create a precise guide for the implant surgery, and to allow the dental laboratory to pre-manufacture a set of replacement teeth that will fit precisely in the jaw. An advanced set of CAD/CAM (computer aided design/manufacture) processes is used to generate the physical objects — in this case, the surgical guide and the prosthetic teeth. Depending on your individual situation, the new teeth may be attached the same day as implant surgery, or after a healing period of 6 to 12 weeks. In either case, our precision modeling ensures that they will fit perfectly with the implants and the jaw.
Implant Surgery: Following the Plan
The implant surgery itself is typically performed under local anesthesia, and often requires no sutures (stitches). In the surgical procedure, the template we have produced (which resembles a nightguard or athletic mouthguard) is securely (but temporarily) fixed in position on the jaw. The openings in this template form precise guides for the placement of the implants — accurate in terms of position, width and depth. In fact, the implants fit so perfectly into these prepared sites that we can have new teeth placed the same day as implant surgery.
Since so many of the details have been accomplished in the planning stages, computer-guided implant surgery is typically uneventful for the patient. It can result in shorter time in the chair, less discomfort during recovery — and a highly pleasing result. It has even been called the most significant innovation in implant technology since osseointegration — the fundamental process by which a dental implant becomes fused with the bone.
Many individuals who have no teeth in one or both jaws find removable dentures an economical way to restore their smiles. Yet dentures are not always so easy to wear. Sometimes they slip when you try to eat or speak. It happens more often with a lower denture, which can easily become dislodged by the tongue — a more powerful muscle than you might think. A loose denture can make you feel self-conscious, and prevent you from eating a nutritious diet. Removable dentures will also cause bone loss in the jaw over time by pressing down on the bony ridges that formerly supported the teeth. Fortunately, there's a simple way to prevent all of these problems: supporting your removable dentures with dental implants.
You may have heard about dental implants acting as lifelike replacements for individual missing teeth, and that's certainly of great benefit to those who still have many of their natural teeth. But when you have no teeth left in one or both jaws, putting in a dental implant for every tooth is not economically feasible, nor is it necessarily desirable. An excellent solution is simply to place as few as two dental implants in the lower jaw to support a removable denture so that it does not come loose when worn. An implant-supported removable denture can — and should — still be taken out for cleaning and maintenance.
How It Works
Dental implants are small titanium posts that serve the same purpose as the roots of natural teeth: They anchor replacement teeth to your jawbone. Like natural tooth roots, they lie beneath the gum line and are therefore not visible in the mouth. Because titanium has the unique ability to fuse to living bone, your dental implants actually become a part of your jawbone and help to preserve its volume and density — an important consideration for your health and appearance (Learn More). When a denture is secured by implants, it does not press down on your bone tissue in a destructive way, and it will remain in position as you eat, speak and smile. This has a very positive impact on quality of life.
It usually takes only two implants to support a lower denture, though every individual is unique and we will have to examine you to determine what would work best in your case. Retaining an upper denture requires a greater number of implants, usually a minimum of four, because of anatomical differences between the upper and lower jaws. If you already wear a denture, we may be able to modify it to become an implant-supported denture. Or we will have a new one made for you.
What to Expect
Dental implant surgery is a simple, routine procedure carried out in the dental office under local anesthesia in most cases. After numbing the area, an appropriate number of implants will be placed in your jaw at precisely planned angles and positions to maximize support and avoid anatomical structures such as nerves and sinuses. Depending on how many implants you will need, the surgery can take anywhere from one to three hours. Most people who have dental implants placed find that any post-operative discomfort can be managed with over-the-counter anti-inflammatory medication such as ibuprofen or acetaminophen.
After surgery, your implants will need to complete the process of fusing to your jawbone (known as osseointegration), before they can support your denture(s). This takes at least six weeks and is different for everyone. During this healing period you will not be without teeth, however, because you can wear a denture that is modified so that it does not overstress the implants. When healing is complete, we will show you how to hook your denture onto the supporting implants (and take it off again) so you can experience the security of teeth that don't move — and all the benefits that go along with them.
Related Articles
Implant Overdentures for the Lower Jaw Implant overdentures represent a major change for the dental profession and the public. The lower jaw two-implant overdenture may be considered a more appropriate starting point over regular dentures... Read Article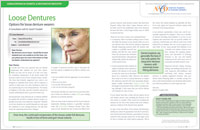 Loose Dentures Loose dentures are a common problem for people who wear full (complete) dentures, especially after years of use. Whether or not new dentures are needed depends not only upon the condition of the existing dentures, but also upon how much the tissues supporting them have changed... Read Article