Imagine this: An implant surgeon is performing a thorough examination of your mouth. The surgeon rotates your jaw from side to side and up and down, looking for the optimal sites in which to place dental implants — and the proper size, shape and orientation for the implants to have. He or she may test several alternatives, considering the underlying anatomical structures, and the bone density and quality that the examination reveals. Finally, a surgical plan is developed: This includes a set of precise specifications for implant position, size and depth, and a template for creating a perfectly fitting set of replacement teeth. But no invasive procedures of any type have been performed so far. In fact, you aren't even present.
Welcome to the world of computer-guided dental implant surgery. What we have described is one step in the process that allows you to receive a set of replacement teeth with the minimum amount of surgery (and time spent in the dental chair), and the maximum level of preplanning foresight. It can result in faster overall treatment time, less discomfort, and an outcome that pleases everyone. Let's look a little more closely at the entire process of computer-guided implant surgery — a procedure at the forefront of dental implant technology.
The First Phase: Making A Virtual Model
It all begins with a complete examination and modeling of your existing teeth, gum and jaw structures. In many cases, a physical impression (replica) of the jaws is made, which will aid in planning the location of the new teeth. But the modeling doesn't stop there: A high-tech, three-dimensional CT (computed tomography) scan is also performed. This allows us to examine the structures (including bone, nerve tissue and sinus cavities) which lieinside the jaw. It is often accomplished using "cone-beam" CT technology, in which the scanning device quickly captures a complete digital image of internal structures as it rotates around your head.
The next step of the process relies on powerful computers and sophisticated software to take the raw CT scan data and translate it into a 3-D model of the jaw. This virtual model can be manipulated on a computer screen — rotated, measured, even "operated" on — so that we can visualize the placement of dental implants and determine their optimum position with a high degree of accuracy. Using this technology, it's now possible for us to evaluate anatomical structures virtually — structures it once would have taken surgery to reveal — and to plan out the implant procedure accordingly.
The 3-D model we have developed is then used for two purposes: to create a precise guide for the implant surgery, and to allow the dental laboratory to pre-manufacture a set of replacement teeth that will fit precisely in the jaw. An advanced set of CAD/CAM (computer aided design/manufacture) processes is used to generate the physical objects — in this case, the surgical guide and the prosthetic teeth. Depending on your individual situation, the new teeth may be attached the same day as implant surgery, or after a healing period of 6 to 12 weeks. In either case, our precision modeling ensures that they will fit perfectly with the implants and the jaw.
Implant Surgery: Following the Plan
The implant surgery itself is typically performed under local anesthesia, and often requires no sutures (stitches). In the surgical procedure, the template we have produced (which resembles a nightguard or athletic mouthguard) is securely (but temporarily) fixed in position on the jaw. The openings in this template form precise guides for the placement of the implants — accurate in terms of position, width and depth. In fact, the implants fit so perfectly into these prepared sites that we can have new teeth placed the same day as implant surgery.
Since so many of the details have been accomplished in the planning stages, computer-guided implant surgery is typically uneventful for the patient. It can result in shorter time in the chair, less discomfort during recovery — and a highly pleasing result. It has even been called the most significant innovation in implant technology since osseointegration — the fundamental process by which a dental implant becomes fused with the bone.
Bad Breath, or halitosis, is an embarrassing problem that affects millions. To combat it, many people use breath mints, chewing gum, sprays and mouthwashes. In fact, Americans spend billions of dollars each year on these products — even though they offer only a temporary fix. Getting rid of persistent foul odors on the breath in a lasting way requires a little detective work on the part of dental professionals.
Bad breath can affect anyone temporarily — think of "morning breath," or the way your mouth smells after eating onions or drinking coffee. Some people, however, exhale noticeably unpleasant odors throughout the day, every day. That's when it is important to find the cause of the problem, so a lasting solution can be achieved.
Causes
Most often, bad breath originates in the mouth, from trapped food particles that are then processed by oral bacteria. The most common location for mouth-related bad breath is the back of the tongue, where large quantities of naturally occurring bacteria can thrive on food remnants, dead skin cells and post-nasal drip (mucus coming down your throat from the nose). The waste products of these bacteria include volatile sulfur compounds (VSCs), which have a smell resembling rotten eggs. Other places where bacteria and food particles can be trapped are between the teeth, beneath the gums, and in oral appliances or dentures. Poor oral hygiene sets the stage for these problems, as well as for tooth decay and gum disease, which can also cause foul odors.
It's possible for other health conditions and habits to affect your breath. Halitosis may occur in people who have a sinus or bronchial infection, an oral yeast infection (which can be caused by antibiotic use), or even a systemic (general body) disease such as diabetes, kidney failure or a liver malfunction. A chronically dry mouth (xerostomia), which is often a side effect of certain medications, and tobacco use can also contribute to this problem. Even stress, dieting and hormonal changes can affect your breath.
How Dentistry Can Help
Since bad breath most often originates in the mouth, the dental office is the best place to start in your quest for consistently better-smelling breath. After a thorough examination, any of the following might be recommended:
Oral hygiene instruction. It might be that you could benefit from a demonstration of how to brush and floss more effectively, or how to better clean your dentures. You can also be instructed on how to use a tongue scraper to clean the back of your tongue if necessary.
Professional dental cleaning. Food particles, bacteria and calcified deposits can become trapped where you can't reach them — but special dental instruments can. Regular professional cleanings are a great way to promote good oral health in general and good-smelling breath in particular.
Treatment of tooth decay. Bad breath may be caused by large, open cavities that need to be filled, or old, defective fillings that need to be repaired.
Treatment of gum disease. More advanced forms of gum disease cause the gums to separate from the teeth, forming pockets in which bacteria can thrive. If you have gum disease, you may need periodontal (gum) therapy, which can include a deep cleaning of the roots of your teeth, antibiotics, and, in advanced cases, periodontal surgery.
Treatment of infection. Infection that doesn't originate in your mouth needs to be treated by the appropriate medical professional. Whatever the cause of your bad breath, we are here to make sure you get the treatment you need.
Related Articles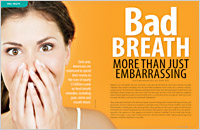 Bad Breath Bad breath has a significant impact both personally and socially on those who suffer from it, as well as those on the receiving end. It may be the result of poor oral hygiene, or a sign of a more serious underlying condition. Find out what causes bad breath and what you can do about it... Read Article
Oral Hygiene Behavior — Dental Health for Life The best tools for maintaining your oral health and minimizing dental problems are a quality toothbrush, toothpaste, a roll of dental floss, approved mouthwash and good diet. This article details a winning game plan for oral health... Read Article