Huntsville Alabama Dental Implants
For most situations, dental implants are probably the best, most natural solution for replacing missing teeth, whether you are missing only a single tooth, or many teeth.
Because dental implants are most like your natural teeth, they look better, last longer and function just like your missing natural tooth.
If you are missing most or even all your teeth, dental implants are the only solution that will prevent long term bone loss in your jaws that will, over time, make wearing any type of denture very painful, if not impossible.
Advantages of Dental Implants
• Because dental implants are anchored in your jaw bone just like your own teeth, they are more natural in the way they look and feel.
• With dental implants, the teeth next to the missing tooth do not have to be tampered with. Teeth adjacent to the missing tooth position have to be prepared for crowns when a dental bridge is used, or ground down for the fitting of clasps with partial dentures.
• If an expert cosmetic dentist like Dr. Beasley does your dental implant, no one will ever know it isn't a real tooth.
• Dental implants can be used as "anchors" in combination with dentures, which allows a much more secure fit and greatly enhanced chewing efficiency and efficacy.
Disadvantages
• Dental implants can initially be more costly than dentures or bridges. However, as bridges and dentures may require repair or replacement over the years, a dental implant may actually wind up costing less in the long run.
• Extra visits may be required. In addition to your cosmetic dentist, you may also have to see an oral surgeon or periodontist to place the root forms.
• It may take several weeks of healing time before the crown can be placed on the implanted tooth form. Your dentist will give you a temporary crown or dental "flipper" (a kind of temporary denture) to wear in the mean time.
Are you a candidate for dental implants?
You must be in good general and oral health, because you must be able to handle the surgery.
You must also have adequate bone remaining at the sites of the missing teeth. Over time (about 10 to 20 years, usually), the bone in your jaw at the site of the missing tooth/teeth will be reabsorbed by the body. This can cause facial collapse (see picture at right), and can make wearing any kind of denture at all impossible.
In cases like this, your dentist can recommend bone grafts or other techniques so that dental implants can be placed.
Make an appointment with Dr. Beasley today, so he can help you decide if dental implants are the solution for your missing teeth.
Related Dental Implant Articles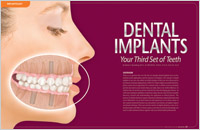 Dental Implants – Your Third Set of Teeth
A discovery fifty years ago paved the way for one of dentistry's most exciting, natural looking and successful tooth replacement systems. Learn how dental implants might just possibly change your life... Read Article
The Hidden Consequences of Losing Teeth
For those missing even one tooth, an unsightly gap is actually the least significant problem. What's of far greater concern is the bone loss that inevitably follows tooth loss. Dental implants fused to the jawbone can preserve bone, improve function and enhance psychological well-being. Learn how implants serve both as anchors to support replacement teeth, and preserve bone as one of the better preventive maintenance procedures in dentistry... Read Article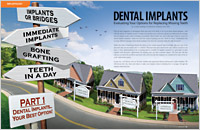 Dental Implants - Evaluating Your Options for Replacing Missing Teeth
As we guide you through the marketing hype you'll see that well planned implants most often require a team approach in assessing whether they're right for you. Not only are they a better treatment choice, they will last longer, possibly a lifetime, making them the right choice and the most cost effective option long term... Read Article
Implant Overdentures for the Lower Jaw
Implant overdentures represent a major change for the dental profession and the public. The lower jaw two-implant overdenture may be considered a more appropriate starting point over regular dentures... Read Article
---